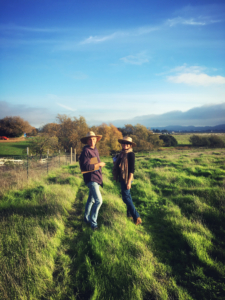 Vital Cycles was created by Anne Freiwald and Lydia Neilsen, who bring together extensive backgrounds in community health and permaculture education and activism. Curiosity about and study of Alchemy and Biodynamic herbs inspires a deep integration of the health of the land and the health of the individual. We have an action-based perspective that highlights skills, practices and resources necessary for growth, creativity, and vitality in person and place.
Anne Freiwald, MPH: Human ecology and permaculture educator and regenerative design consultant for individuals, landscapes and communities; over 28 years passionately committed to community resilience.
Lydia Neilsen: PINA certified permaculture educator, landscape and habitat designer, specializing in water cycle restoration and passionate polyculture. ​
In addition to this year long course, Anne and Lydia also offer permaculture landscape design consultations as well as signature and custom educational courses. Contact vitalcyclesinfo@gmail.com for more information.