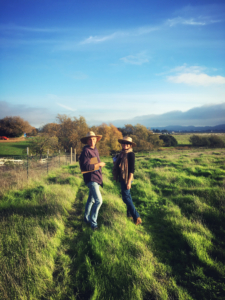 Vital Cycles is an education and design partnership between Anne Freiwald and Lydia Neilsen in Santa Cruz, CA, focused on knowledge, skills and action towards planetary and personal Regeneration.
They have designed and teach their signature course Vital Cycles, a Permaculture Institute of North American (PINA) recognized Permaculture Design Certificate Course (PDC) with additional focus on Human Ecology in Santa Cruz, CA. Additionally, they teach a PDC in Benicia, CA and give numerous talks and short workshops throughout the Bay Area in various topics.
Anne and Lydia also collaborate with Regenerative Economist Della Duncan for seasonal workshops called HUM: A Weekend of Song, Connection and Regeneration: combining singing, Permaculture, Human Ecology and Joanna Macy's Work that Reconnects. 
Anne and Lydia bring together extensive backgrounds in community health and permaculture education and activism. A deep curiosity about the interconnectivity of the planet and her people inspires an integration of the health of the land and the health of the individual through their teaching. They bring a positive action-based perspective that highlights skills, practices and resources necessary for growth, creativity, and vitality in person and place. Plus their classes are inspirational and fun!
Anne Freiwald, MPH: Human ecology and permaculture educator and regenerative design consultant for individuals, landscapes and communities; over 30 years passionately committed to activism and advocacy for community resilience and equity.
Lydia Neilsen: PINA certified permaculture educator, landscape and habitat designer, specializing in water cycle restoration and passionate polyculture. ​
Contact vitalcyclesinfo@gmail.com for more information.